Before setting off on a trip abroad there are a few things you must research to ensure that you are adhering to the particular laws of that country.
If touring then there might be several different countries that you plan to drive through and each country may have different rules and regulations for different seasons so it is important to know what is required. A great place to start your research is the AA website, the link below will take you to the page where you can select the country/ies you wish to visit and download a PDF fact sheet for that country.
http://www.theaa.com/motoring_advice/overseas/general_advice.html
From seatbelt requirement to badge requirements and speed limits, we think the AA has it pretty much covered but if you think that there is a better site out there to point members to please let us all know.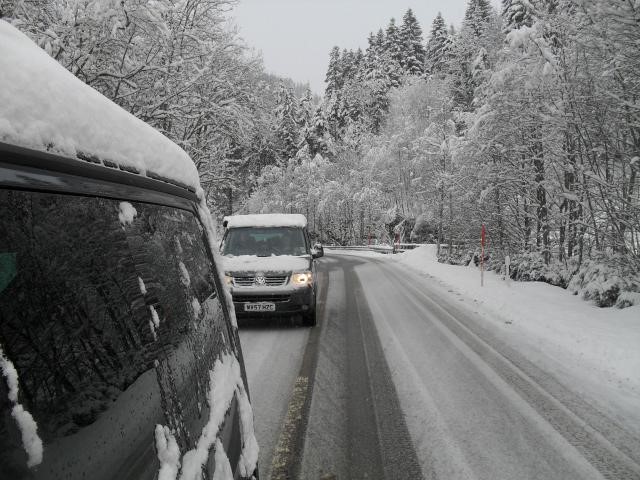 WINTER TYRES

Our advice is to fit winter/snow tyres from November through to February at least, even in if you are in the UK and especially if you are in a remote rural area.
From December 2010 it is has been compulsory in Germany to drive on winter tyres regardless of vehicle nationality so be beware and prepare if you're heading in that direction. We keep winter tyre sets on sets of steel rims and swap the wheels over in November/December. Investing in winter tyres does not have to be an excessively expensive investment and is one you should seriously consider if you plan to drive your pride and joy in bad weather let alone to the Alps.
Ask any tyre dealer and they'll tell you that you don't need premium tyres to feel the benefit, the sidewall of a winter tyre will be marked with a symbol showing a snowflake or snow-topped mountains, that is what the German police will be looking for!
WHAT'S SO SPECIAL ABOUT WINTER TYRES?

Winter tyres use a tread rubber compound (high silica content) and tread pattern specifically designed to retain flexibility in low temperatures (below +7C) and give good braking/traction performance on snow/ice as well as on wet roads in cold conditions .
If you don't fit winter tyres then you'll need to ensure you have all weather tyres fitted and a decent amount of tread remaining for the countries you are travelling in, laws in countries can differ on tread depth! At least 3mm is required in Switzerland and some other countries. Check the AA or RAC websites for further information.
http://www.theaa.com/motoring_advice/overseas/snow-chains-winter-tyres.html
Don't forget to check your tyre pressures and if you pack a set of Snow chains practice putting them on. The alloy wheels and tyre sizes on a Volkswagen California can make getting the right fit sometimes difficult (17″ wheels and above), get in touch if you need advice, we now stock Snow Chains and Snow Socks; we've also some for hire if you need them as well as other gear on our rental – optional extras page.
SNOW CHAINS
Snow chains offer excellent grip but are a bit awkward to fit when you are knee deep in snow and slush, and wrapping them around the wheels can be frustrating when you are cold. You can also get pretty cold and dirty removing them.
That is why we choose the best chains we can find and now stock the best self-tensioning chain for SUV, Crossover, Commercial vehicles and Motorhomes. Our top tip is not to leave it too long before fitting the chains, it is common to think it is not that bad and you'll manage only to then get stuck. Those vehicles you see passing you without snow chains will be using snow tyres, so don't be fooled into thinking you'll get away with it, it could be a costly and even fatal mistake!
BREATHALYSERS FOR FRANCE
FROM JULY 2012 if you are travelling through France then you are legally required to carry two NF accredited Breathalysers.
These are not expensive and can be purchased in a twin pack by AlcoSense, these are as used by the French Police. The breathalyser must be compliant with French law and are designed to to alert you at the lower French Drink Drive limit of 0.5% BAC.
SPEED CAMERA ALERTS IN FRANCE
For those intending to travel through France you should be aware that from the 3rd January 2012 a new law in France made it illegal to be warned by Sat Nav & other devices about the location of speed cameras. However most manufactures like TomTom are introducing a 100% compliant Danger Zones service available in a free download for compatible products. If you don't switch off your speed camera warnings or upgrade your product to the new Danger Zones then you risk a fine of up to €1,500.
SCREEN WASH
Get yourself a decent screen wash that will protect down to -20C, beware and check the label as some places sell screen wash that really is next to useless in sub zero conditions.
CLEANING
Make sure that you get your campervan cleaned especially if you return from your winter trip and leave it parked for a time. The road salt used to clear snow and ice can begin to corrode things on your campervan especially your nice shining brake disks! This could result in pitted disks resulting in brake noise and possible disk replacement.
FROST PROTECTION
If you are living in the campervan you can leave the fresh water in the tank as long as you maintain the temperature above 0C.
However it is better to drain the water tank when leaving the campervan uninhabited for periods – you also need to drain the waste tank and the residue of water from the sink tap, otherwise the tap can freeze off!
If you leave any food, drinks or water bottles in particularly cold weather then expect everything to be frozen inside! If you are parked for a long period then it is also recommended to chock the wheels and release the handbrake to prevent the brake pads from freezing to the brake disks.
For driving advice in winter from the Institute of Advanced Motorists see the bottom of this post and don't forget to let us know your experiences and tips.
TIPS FOR SKIERS
Storage can be a real issue when packing winter gear, Bulky clothing, skis, snowboards and boots all need their place. We have used a variety of equipment and sleeping options that we hope will give you some inspiration to make your winter trip a success. What we ahve really liked are the Ski and Snowboard soft bags from Thule, that can attach to your roof bars and yet be removed folded and stored if necessary.
Also,think about hiring or buying your ski gear here in the UK as we found it very expensive in some European Locations.
SLEEPING
It is warmer in the lower part of the campervan so here is a tip if you have small children. Put the campervan in first gear and chock the wheels and you can then drop the handbrake put the front seats facing together to make a bed for a toddler.
You can also get a hammock across the front cab for older children. The roof bed can be cold at night in winter so we use the Brandrup front screens and Iso Top roof liner (the Iso Top deflects the heat away from the top air vents and also acts as a wind breaker). Other options include the Vanorak or similar.
Thermal external or internal screens are also recommended which in conjunction with the insulation hoods all need to be fitted and then removed after closing the roof, the advantage of the Iso Top Gore lining is that it can be left fitted when lowering the roof but offers much less cold weather protection.
HEATING AND INSULATION
The lower bed area is really toasty – the heating system is amazing and we have used it in temps around -18C, it can be left on through the night and without hook-up, you can get few nights or more if you're careful with the energy and turn off the fridge etc to conserve power. Igniting the heater is a problem when power is low so turning the on engine also charges and can give the batteries a boost, check your heating in advance and charge your batteries using the hook up as the journey alone may not be enough! Whilst we feel the heating is more than sufficient and the most practical way to heat the campervan we have been asked if it is possible to run a small electric heater when on hook up, that answer is yes. However some campsites only offer a 6amp hook up and most heaters are 13amp so you'll need to check the current rating of your appliance, a 6amp supply will be good for a 1kw heater or you could look for one that can be set on half power for when you do have a 13amps. If in doubt seek advice from the campsite and for safety sake always keep electric heaters clear from obstructions such as clothing and bags etc.
COOKING
We've never had any problems using the gas cooker however gas can freeze below 0C, so if you find the gas is not flowing try to heat the campervan up first and see if that does the job. The water tank in a California does offer some protection for the gas bottle however you could consider insulating it as well.
Always be sure to have good ventilation when cooking!
LOW TEMPERATURE DIESEL
Subject to when you travel there is also low temperature diesel available in the Alps which might be preferable in sub zero temperatures. In very cold conditions wax crystals can form in diesel, block the fuel filter and prevent fuel flow. The European quality standard for diesel fuel includes winter requirements specific to each country which ensure that fuel is suited to the local climate. Fuel capable of operation down to at least -20C is normal in the popular winter resort destinations.
FINALLY – DRIVE SAFELY

This is what the Institute of Advanced Motorists recommends…
When driving in snow, get your speed right – not too fast so that you risk losing control, but not so slow that you risk losing momentum when you need it – and brake, steer and accelerate as smoothly as possible.
Start gently from stationary, avoiding high revs. If you get yourself into a skid the main thing to remember is to take your foot off the pedals and steer."
Only use the brake if you cannot steer out of trouble.
Double or even triple your normal stopping distance from the vehicle in front. Drive so that you do not rely on your brakes to be able to stop – on an icy surface they simply may not do that for you!
If your vehicle has ABS in very slippery conditions it will not give you the same control it would in others. Do not rely on it.
Our top tips for driving in snow and ice
Plan your journey around busier roads as they are more likely to have been gritted. Avoid using shortcuts on minor roads – they are less likely to be cleared or treated with salt, especially country lanes.
On motorways stay in the clearest lane where possible, away from slush and ice. Keep within the clear tyre tracks if you can.
Stay in a higher gear for better control, and if it is slippery, in a manual car move off in a higher gear, rather than just using first.
On a downhill slope get your speed low before you start the descent, and do not let it build up – it is much easier to keep it low than to try to slow down once things get slippery
In falling snow use dipped headlights or foglights to make yourself visible to others (especially pedestrians) – but as conditions improve make sure your foglights are only on if necessary as they can dazzle other drivers
If you are following another vehicle at night, using their lights to see ahead can cause you to drive dangerously close – keep well back from other traffic.